Coconut Creek Pest Protection & Control
From time to time, especially in Coconut Creek, pest problems arise that may require you to seek help from a professional. At Advantage Pest Related Services, we prevent unwanted pests and make your lawn and landscape: greener, healthier, and more beautiful! We take great pride in the service we provide our customers. If you have a problem with ants, bees, roaches, rodents, wasps or any other pests, Advantage Pest Related Services has a solution.
At Advantage Pest Related Services, our fully certified and trained technicians bring their years of experience to every single job site. Advantage specialists offers you and your family dependable, effective, environmentally smart and fast services that protects your home.
We will provide you with a detailed analysis and written explanation of any pest, termite, or insect problems found. Most importantly, we will provide a customized service plan to correct and prevent any pest problems that fits your needs.
Living in Coconut Creek has its advantages and the residents of Coconut Creek enjoy many benefits. Its beautiful beaches, great weather, rich landscape, and sunshine make it the perfect place to live. However critters, pests and rodents also enjoy all the benefits Coconut Creek offers. Don't let pests ruin your life. The trained technicians at Advantage Pest Related Services will provide a pest control treatment that is right for you. With over twenty years of experience in Florida, we know pest control. From prevention and elimination, we take care of pests invading your home and business. If you have seen bugs or the thought of insects infesting your home scares you, we can help. Whatever problem you may have with bugs you can call Advantage Pest Related Services today!
What you should expect:
An Advantage trained representative will thoroughly inspect your home or business for evidence of invading pests
Our trained representative will take the time to discuss with you a customized treatment plan for your home or business
The inspector will note any deficiencies (caulking, crack repairs, landscape adjustments, etc.) and will suggest simple improvements which can be made to assist in the prevention of future pests
Our Coconut Creek pest control services consist of treatments (quarterly, bi-monthly or monthly) using the most environmentally friendly methods available. If a pest problem persists after a scheduled treatment, the technician will come back at no cost to resolve the issue. Once the initial treatment is completed the primary focus will be future pest prevention. The pest control expert will establish an exterior perimeter barrier around your home or business, which will be continued as part of your regular scheduled service. Barrier treatments assist us in preventing the invasion of unhealthy and unwanted pests into your life.
"Advantage will preserve the health of your home and protect your family and pets from unwanted pests."
Coconut Creek Rodent Control & Prevention Program
Rats and Mice
Rodents can carry and transfer many diseases like bubonic plague, salmonella, and rat-bite fever, so it's important to eliminate them as soon as possible. Rodents can be difficult to keep out of your property because they have the ability to squeeze through small spaces. In many cases, traps and poisons may do the trick, but to avoid serious infestations, contact a rodent pest control professional.
Rodent Control
Have you heard scratching and rustling sounds in your walls or ceiling during the day or at night? Unfortunately, you may be the host of rodents in your home. Rodents are a nuisance, but more importantly they have the potential to cause damage to your dwelling. As a result of the constant chewing and gnawing that rodents are known for, your homes wiring and insulation can be damaged, the damage could result in unnecessary and costly repairs to you. Did you know that rodents can spread disease and bacteria in their wake? Once inside your walls and attic, rodents often find ways to enter the living areas within your home. In particular, if your home is located on or near a waterway, in proximity to large open fields or wooded areas, the potential for a rodent problem significantly increases. Accordingly, you may wish to consider a rodent prevention program on a seasonal or annual basis. Either way, our trained technicians are prepared to eliminate or prevent rodent intrusion from your dwelling.
Rodent Proofing Service
After a thorough inspection, our technician will block all non-desirable entry points into your home or business that are large enough to allow the intrusion of rodents.
If our technician discovers something that needs to be addressed outside of your regular service or prevention program the technician will advise you at that time.
Trapping/Baiting
Your trained technician will strategically place rodent entrapment devices that utilize non-toxic bait, the device(s) will be checked as required by your technician on a regular basis.
Perimeter Monitoring
For both prevention and maintenance your technician will strategically place tamper proof rodent bait stations around the perimeter of your home or property. Stations will be monitored and maintained as required.
Bait stations will be affixed to 12×12 inch patio stones for a more semi-permanent installation.
Entry points are sealed or blocked utilizing screen and common rodent proofing products.
Advantage Pest Related Services will help keep or return your home to a more healthy environment.

How would I know if I have Bed Bugs in Coconut Creek?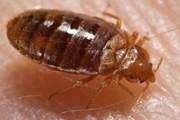 Residents of West Palm Beach and Coconut Creek enjoy the year round amazing warm weather our beautiful state offers. Unfortunately, many pests and critters also find the weather perfect to grow and thrive. One of those pests is the infamous "bed bug." Contrary to general misconceptions, dirt does not cause bed bugs to invade a home.Bed bugs feed on human and animal blood, as long as there's a source of blood available, they will happily take up residence anywhere.
There are many visible signs that can alert a person if there is a presence of bed bugs:

Blood Stains To identify a bedbug inspect light-colored bed linens for small dark spots of dried blood.

Skin Sheds As they grow, the nymphs (baby bed bugs) shed their skin many times during their lifetime, making them easy to spot.
Crushed Bed Bugs Movements while sleeping may crush some bedbugs leaving rust-colored stains on linens.

Unexplained Bites The most noticeable sign of bed bugs is when you wake up and find your body covered in red patches from bed bug bites.

A Bed Bug Bed bugs are tiny and hard to see, but they are certainly big enough to be spotted. To find one you'll have to inspect your bedding area thoroughly to find a live one.

Fortunately, bedbugs do not carry any dangerous diseases. Unlike other pests and insects, studies have shown that bedbugs are not harmful. However, they can worsen allergies and asthma in people who already have. Our technicians do recommend to get rid of bed bugs quickly.

It's very difficult to prevent bed bugs from entering your home. Much like ants, flies, or mosquitos, they are a fact of life. However, with the help of qualified professionals like Advantage Pest Related Services, one can keep their loved ones safe and home pest free.
How to get rid of Bed Bugs?
The most important thing to understand about bed bug eradication is that there is no individual solution or a combination of solutions that will work all at once. Bed bugs have a life cycle from egg to adult, and each step in that cycle requires a different solution. Some populations of bed bugs have developed resistance to common over the counter insecticides, making them ineffective. Alternative methods include cold treatments, heat treatments, steam treatments, and structural fumigations. Remember what mom said, "Don't let the bed bugs bite."

If you know or feel your home is infested with bed bugs, don't wait to deal with the problem yourself because it can escalate quickly. For your family's sake and peace of mind, contacting a professional Pest Control Service is the best solution. Stop struggling over bed bugs, call 800-698-7998 or contact a reliable and friendly expert.